Most people think of using semigloss paint for indoor projects. What are the most important considerations for using this type of paint outdoors?
Durability - Semigloss paint is more durable and scratch-resistant than flat or eggshell paints. It can better withstand the weathering from sun, rain, wind, etc. when used on exterior surfaces.
Ease of cleaning - The slight sheen of semigloss paint makes it easier to clean by resisting dirt adhesion and allowing you to wash off stains. This is useful for outdoor surfaces that need occasional cleaning.
High humidity or moisture - Semigloss may not be ideal for exterior surfaces that are exposed to a lot of moisture as it may not allow adequate vapor transmission. The moisture can get trapped under the paint leading to peeling or bubbling.
Sunlight reflection - The higher sheen of semigloss can reflect more sunlight than lower sheens. This can potentially cause glare or make the painted surface hotter. Consider eggshell for exterior surfaces in hot, sunny climates.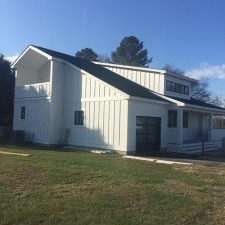 Touch-ups - The sheen of semigloss makes touch-ups more obvious than with flat paint. Extra care needs to be taken to properly blend touch-ups.
Aesthetics - Semigloss offers a nice subtle sheen that can enhance trim, doors, shutters, and other exterior accent areas. Just take into consideration the level of sheen you desire.
So semigloss can work well on exteriors as long as moisture, sun exposure, and aesthetics are taken into account. Proper surface preparation and primer selection are also important for best results.
We recently completed this project in Lewes, which came out beautifully. Give us a call if you have questions or would like a complimentary consultation for an upcoming project.